"I Love Arriva!"
Here is your new Arriva dental procedure

Dental Procedures

Dental Whitening in Costa Rica
Dental Whitening in Costa Rica is very popular.  San José, Costa Rica is a beautiful city and the main destination when having Dental Whitening in Costa Rica because of its state-of-the-art dental centers and exceptional board certified dentists.
Description
Teeth whitening is perhaps the most commonly recommended cosmetic dentistry procedure to brighten one's smile.  Zoom! is a miracle teeth whitening procedure that will instantly enhance the appearance of your smile.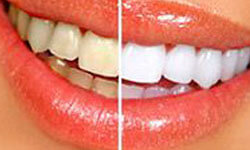 Price
A Dental Whitening procedure is $210. It is meticulously done by Costa Rica's best board certified dentists.
What it Includes:
The procedure includes the dentist fees and all materials. This is everything you need! No surprises!

Combinations
A Dental Whitening procedure can be performed along with any smile makeover procedure. The price is typically discounted lower when having a combination of procedures.
Packages
If you would like a Dental Whitening package with other procedures in Costa Rica, please go here.
Procedure Details
Dental Whitening prices are up to 80% less in San José, Costa Rica than in the U.S. and Canada. Here are more details.
Dentists
The dentists in San José, Costa Rica are among the very best in the world. They are board-certified and very experienced in the full range of cosmetic dentistry.
Airport
The airport is the Juan Santamaria International Airport, also known as San Jose International Airport, or SJO. There are many non-stop flights from the U.S., as well as many flights from Canada, Europe, South America and South America.

Tours and Sightseeing
San José, Costa Rica has been a major medical tourism destination for many years, and one of the major reasons is the world-class dentists and low prices for dental work.
While here, enjoy tours and sightseeing in beautiful San José, Costa Rica.

Costa Rica Medical Center Inn
Your stay will be at the luxury Costa Rica Medical Center Inn where patients recover during dental procedures and where you will enjoy all of the first-class amenities that Costa Rica is famous for.
"I Love Arriva!"
www.ArrivaCostaRica.com
Home of the World's best Medical and Dental